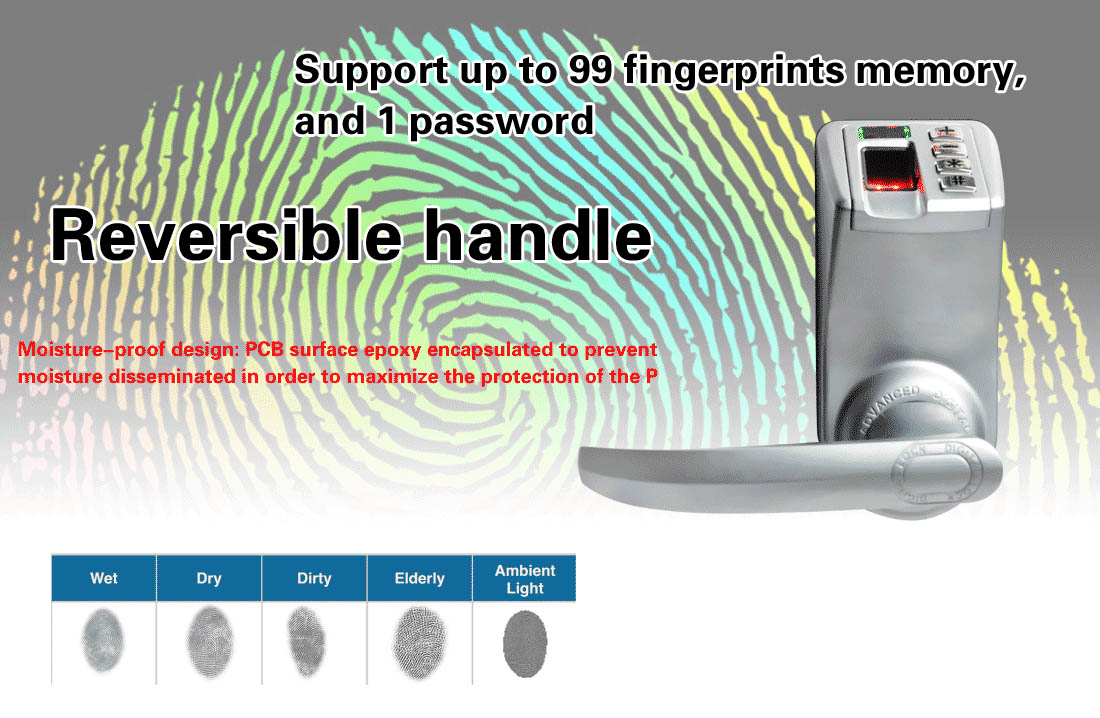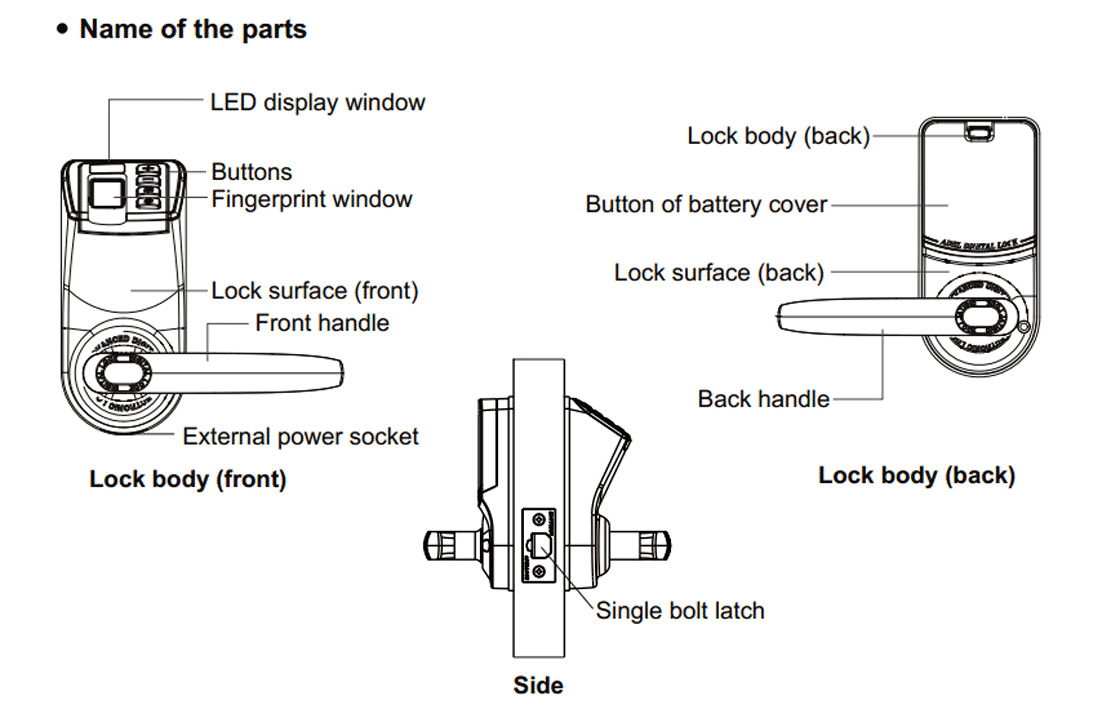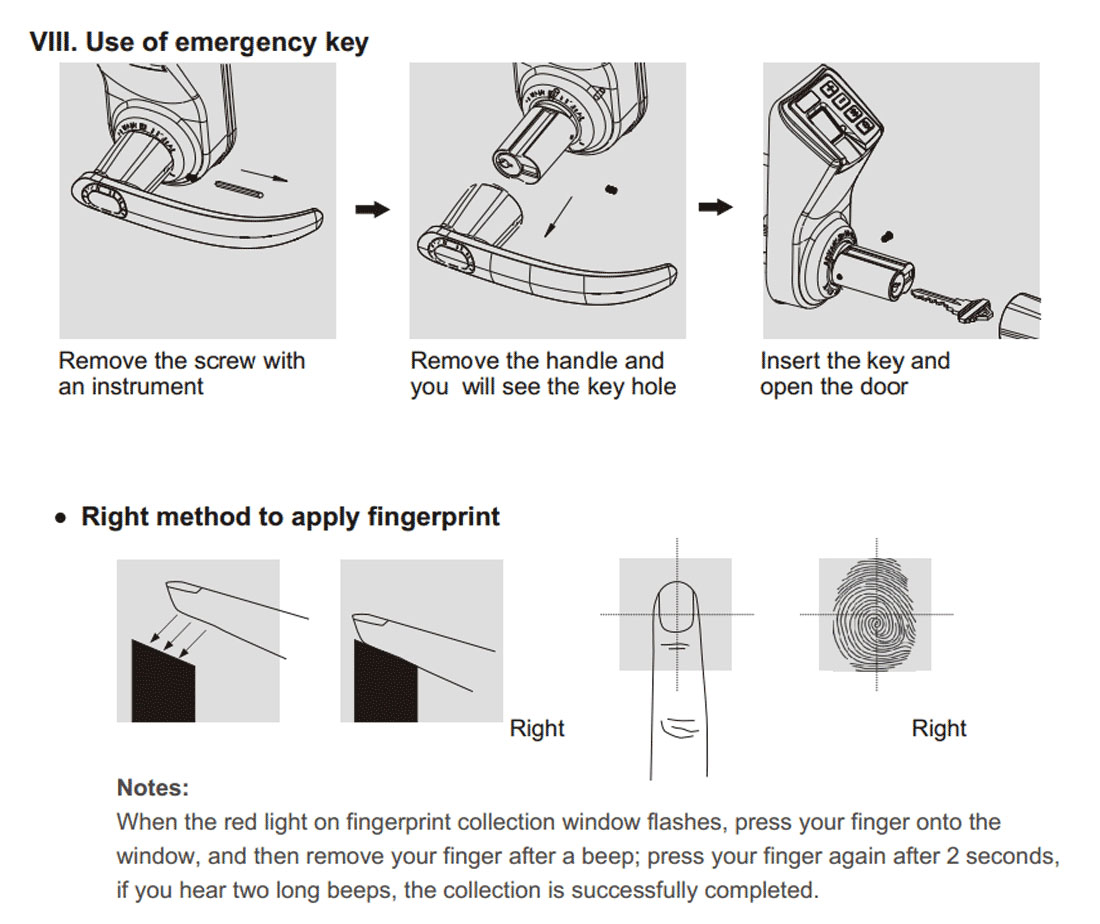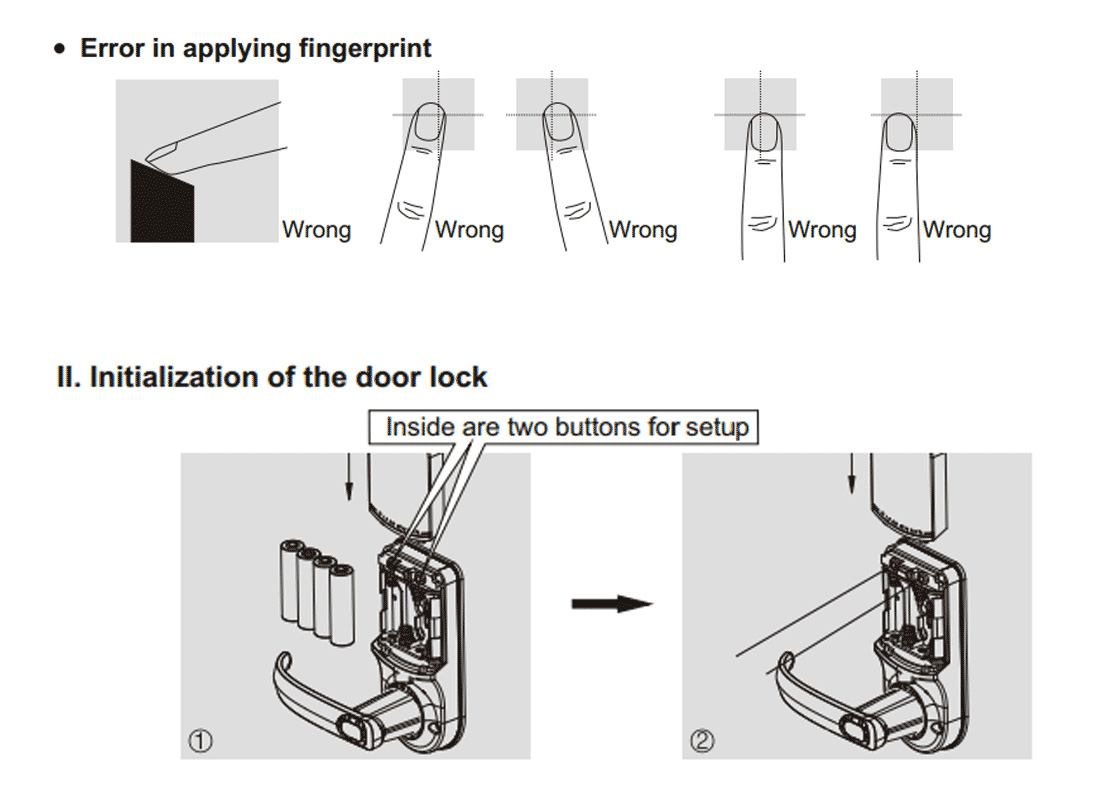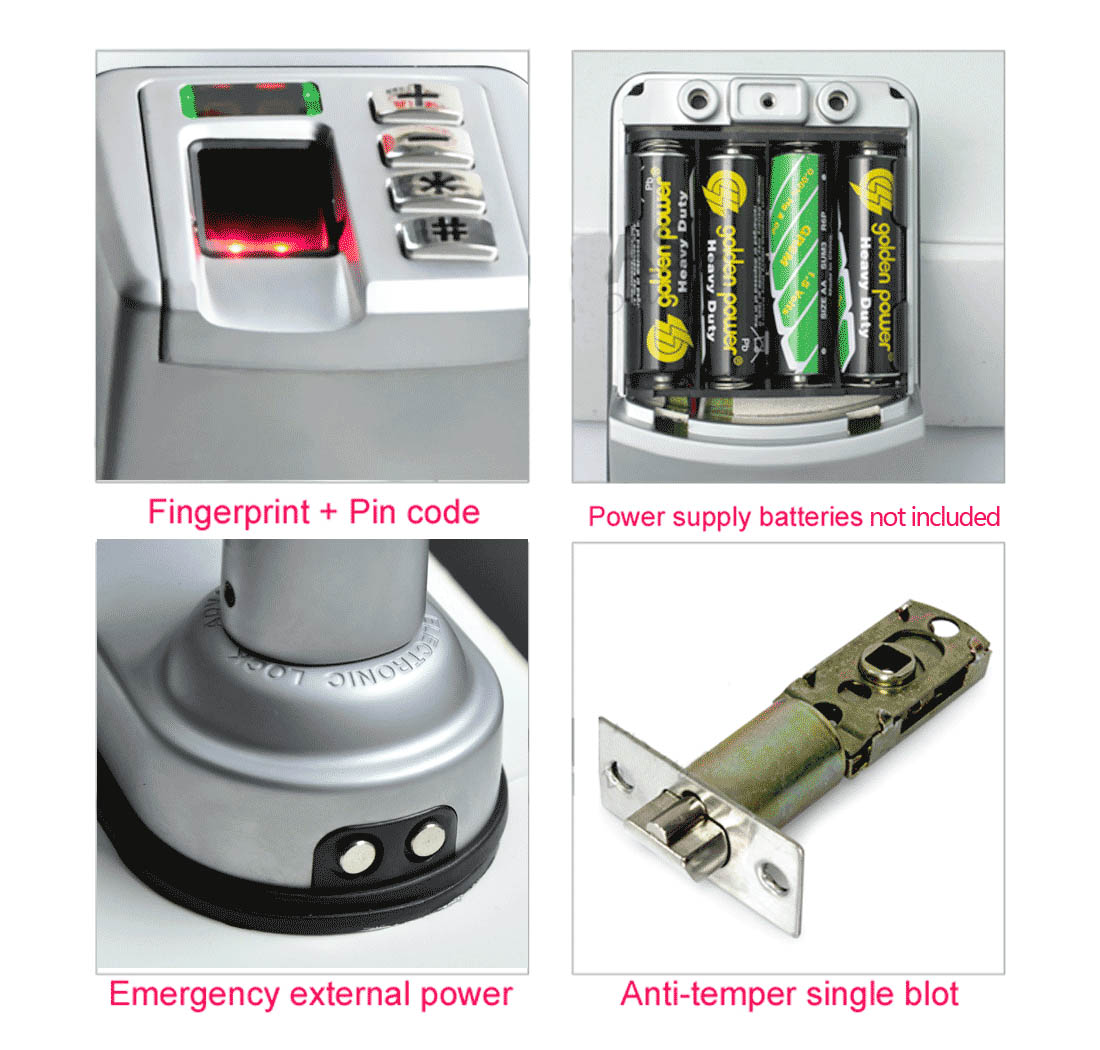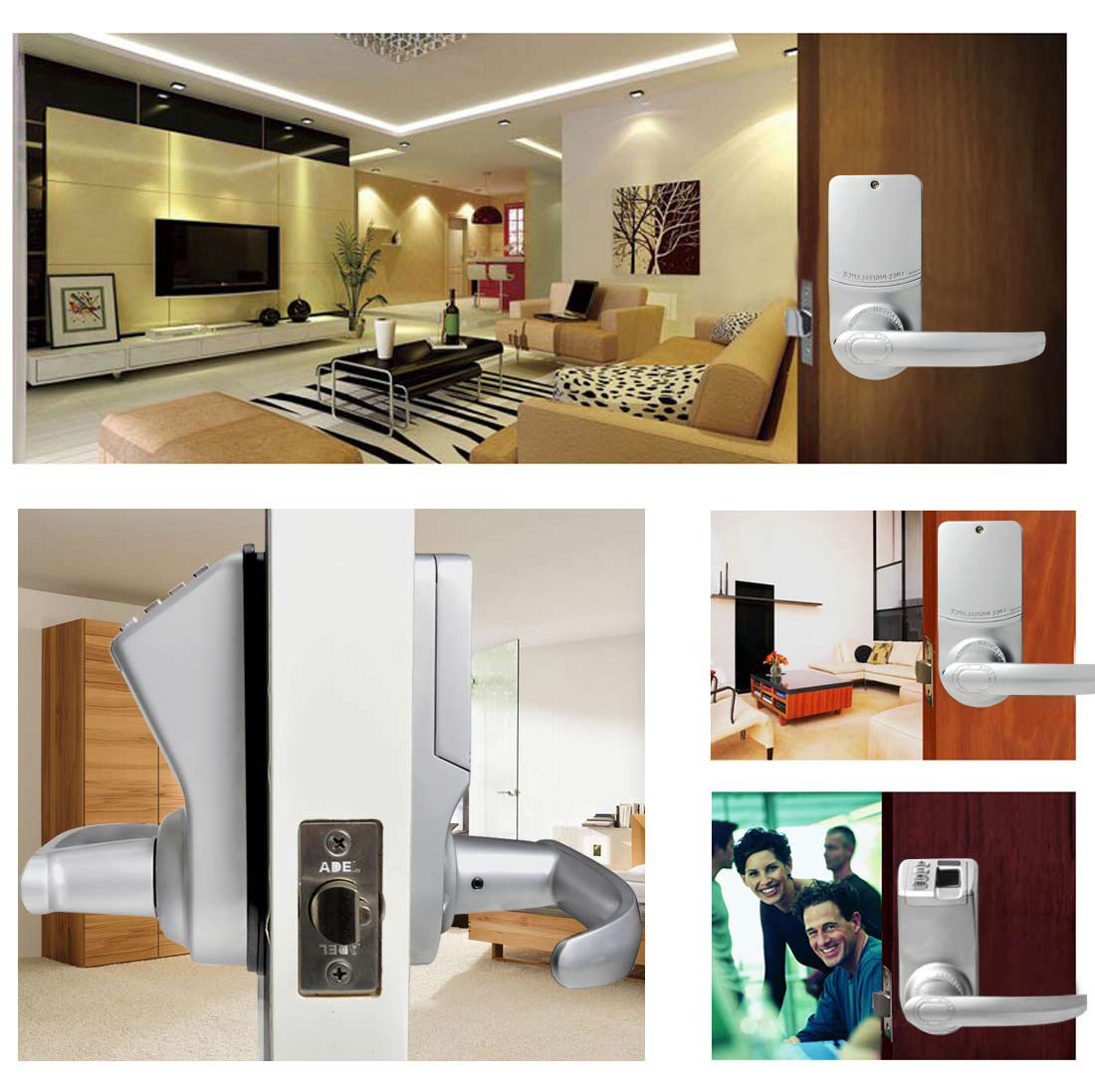 This fingerprint lock adopts advanced DIY design idea that user can DIY the installation by himself. The door handle can be exchange left or right. The lock cylinder uses international standard single lock-tongue. With this fingerprint lock, you can open the door with 3 methods: fingerprint, password or key. It can store 99 fingerprints and realize grouping management, which is convenient for users' maintenance and management.
Features:
Adopts optical sensor with touching to wake up feature.
Unlock by fingerprint, password or key.
Up to 99 fingerprints capacity.
Identification and contrast time is less than 1s, the contrast method is 1:N.
Easily add or delete individual users directly on the lock.
Reversible handle fit any left or right handed door.
LED for easy operation.
Powered by 4pcs 1.5V AA batteries(not included).
Low voltage warning with beeps and red indicator light.
External stand-by power supply for emergency situation.
Fit most cylindrical locksets.
Set to passage mode at any time.
Unique normally open function to facilitate meetings and gatherings.
Fingerprint won't lose if batteries are dead.
Schlage style override key is for emergency(The mechanical key can't be used as regular key).
Highly recommended for indoor use.
Specifications:
Fingerprint Capacity: 99
Authentication Time: Less than 1s
Authentication Method: 1:N
Fingerprint Acquisition Time: Less than 0.2s
Sensor: CMOS 0.3 Mega-pixel
Power Supply: 4 * 1.5V AA Batteries(NOT included) or 6V-9V External Power
Interval Time(Open and Close): About 5s
FAR (False Accept Rate): Less than 1/100000
FRR (False Reject Rate): Less than 1/100
No external wiring required.
Static Consumption: ≤ 8 microamps
Dynamic Consumption: ≤ 150 mA
Operating Humidity: 45%-85%
Adjustable Latch: 2 3/8" or 2 3/4" Backset
Fit a standard 2-1/8" diameter hole, a small extra hole need to be drilled on door.
Fit door thickness from 1-5/32" to 2-3/8"
Designed for INTERIOR door ONLY
Package Size: 23 * 20.5 * 30cm / 9.05 * 8.07 * 11.8in (L * W * H)
Package Weight: 2992g / 6.6lb
Package List:
1 * Fingerprint Lock
1 * Back Handle
1 * Strike Plate
1 * Strike Box
2 * Single Latch(Lock-tongue)
2 * Machanical Keys
1 * Bag of Screws
1 * Installation Tools Kit
1 * Installation Instruction
1 * User Manual (English)